Saanich, BC
Controlling Invasive Plants on Your Property (pdf)
http://www.saanich.ca/EN/main/community/natural-environment/invasive-species-noxious-weeds-wildlife/invasive-plants.html
Species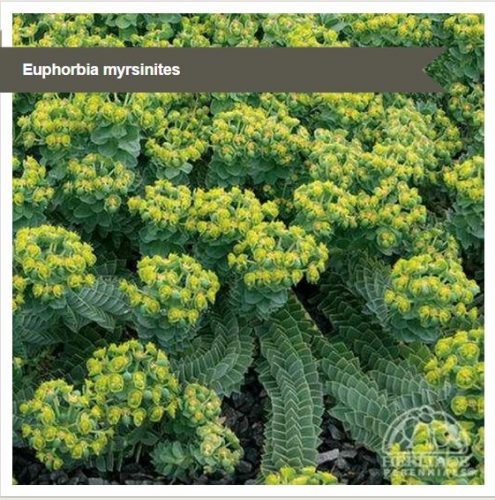 http://www.perennials.com/plants/euphorbia-myrsinites.html
CAUTION: skin and eye irritant/toxic if eaten: wear gloves when handling.
http://www.mgabc.org/content/dangerous-garden-thug-exposed-daphne-laureola
A DANGEROUS GARDEN THUG EXPOSED: Daphne laureola
What has shiny, evergreen leaves, fragrant yellow flowers and luscious black berries… and threatens the delicate eco-system here?
Meet Daphne laureola – in fact you might even have it growing in your garden even though it is on the list of noxious, invasive plants in BC and many other places.
Daphnes are native to southwestern Europe but have been introduced as an ornamental plant to many parts of the world including this part of North America.
WARNING! CAUSTIC SAP &  TOXIC BERRIES!
The bark, sap and berries of all daphnes are toxic to humans and small animals, and the sap is a skin irritant. Daphne laureola has the very undesirable habit of spreading very easily thanks to hungry birds who eat the berries with impunity and then drop the poisonous seed which quickly germinate in new ground. This thug likes to colonize shady, moist areas of our Douglas fir/ arbutus and Garry oak ecosystems, replacing native vegetation and forming a dense canopy blocking out light to the ground. I have seen huge colonies in Nanaimo gardens – having made it'self immensely attractive to unsuspecting homeowners.
Plant scientists believe that Daphne laureola alters the soil chemistry and acidity, preventing establishment of native plant species. These kinds of habitat changes affect both native plants and animals in a very negative way.
Daphne laureola is sometimes even seen for sale in local garden centres ; customers are seduced by the fragrant yellow flowers, beautiful shiny leaves and amazing hardiness. Clearly it is not good for our children, pets or environment.
If you are not yet convinced that this plant should be banished from our gardens, Daphne laureola has the dubious distinction of being listed with the Canadian Poisonous Plants Information System, WorkSafe BC Toxic Plant Warning and the Invasive Plant Council of BC!
If you have found this plant growing in your garden, you can replace it with more desirable broad-leafed evergreens such as Skimmia, Hellebores and rhododendrons.
Daphne seedlings can be pulled out by the root and larger specimens can be eradicated using large loppers to cut below the soil level. Watch for sprouting from the root, and dig out as much as you can. Be sure to wear protective clothing and gloves – and please don't ask your kids to help you with this project!!
By Linda Derkach, MG. Vancouver Island
Sources:
• WorkSafe BC Website: Toxic Plant Warning
• King County Website: Environment/Animals and Plants
• Garry Oak Ecosystems Recovery Team Website
• Photo from Wikipedia
A PDF Fact Sheet is available HERE for MGs to Print and take to clinics along with a sample of the plant, for education purposes.